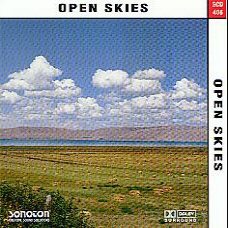 "Open Skies"  – A collection of positive acoustic compositions blending orchestral, pop and folk instrumentation.
This CD was so much fun to create in collaboration with accomplished guitarist and composer J Hayes for the Sonoton library . We recorded the rhythm tracks and some of the solo instruments at SmithLee Productions in St. Louis, then sent orchestral scores and DA-88 tapes (!) overseas for overdubs by the Budapest Orchestra.
The tapes included click tracks and a spoken measure count track to help keep the musicians together with the tracks in their recording sessions.  We created the counting track using samples that Sonoton provided for our Emulator II, in which spoken counting was programmed on every chromatic note. So we would play a chromatic scale on the downbeat of each measure for each piece in order to record the spoken counting to it's own track. HOWEVER – because the conductor was German and the orchestra was Hungarian, the numbers alternated German and Hungarian every other measure!
I will also never forget the phone call with Sonoton in which I was asked "How many string players would you like?".  Wow.